Born in the village of Igelshieb, in the Rennsteig area of the Dukedom of Saxony-Meiningen, Geissler is a well known figure in the history of scientific instruments since the descendants of his inventions - the Geissler tube and the mercury vacuum pump are still in use today. Igelshieb is a suburb of Neuhaus am Rennweg in the state of Thuringia, Germany. The house of birth of Geissler is still there and contains a nice collection of Geissler tubes and those of other plasma heroes. This is organized by the Förderverein Heimatmuseum Geissler - Haus e.V. with its president Rolf Schöler in Neuhaus, available at sylvia.schoeler@web.de .
Geissler's father Georg was an innovative glass-blower and maker of instruments such as barometers and thermometers. Heinrich Geissler's youth coincided with a flowering in interest in experimental natural sciences leading to a greater demand for laboratory apparatus, particularly hollow glassware, which was to catapult the craft of the glassblower from a cottage industry to a profession.
Geissler, however, earned his living for a decade as a traveling instrument maker before settling and establishing a workshop in Bonn, a young university town with a demand for laboratory apparatus. Here Geissler worked closely with chemists, physicists, medical doctors, physiologists and mineralogists and built up an international client list. From 1855 he participated regularly in world exhibitions, winning several medals for his scientific apparatus.
Geissler began experimenting with what were later to become known as the 'Geissler tube' in 1857 and full-scale production of these was well underway in the 1880s. He died in 1879 and is buried in Bonn.
Source: Christie's, Mason & Woods Ltd.
Webster 4597 Catalog, 1991
Active in chemical and physical research for more than fifty years, William Crookes was trained in science by Faraday, Wheatstone and Stokes. He was knighted in 1897 and awarded the Order of Merit in 1910, for his contribution to scientific research. For most of his life he was a freelance chemical consultant, using a home laboratory.
He produced a vacuum of one millionth of an atmosphere, thus making possible the discovery of X-rays and the electron. He also experimented on cathode rays - streams of negatively-charged particles - now called electrons. These are released from the surface of a metal plate called the cathode and fixed in a vacuum within a glass tube.
In 1878, Crookes became convinced that the dark space he has observed between the cathode and the glow, extended farther from the cathode as the pressure inside the glass tube was reduced. The pressure could be reached to the point at which the dark space touched the far end of the tube opposite the cathode. This suggested that the electrical discharge in an evacuated tube was an actual illumination of the lines of molecular pressure.
He produced special tubes to examine cathode rays at various configurations and gas pressures. He discovered that a bar magnet contorts the rays into a spiral, while a horseshoe magnet produced a curve.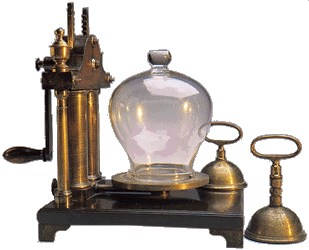 British Double Barrel Vacuum Pump
c. 1850-1875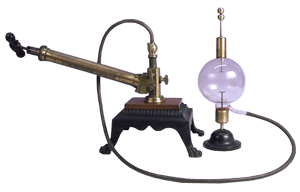 Vacuum Pump with Electric Egg
c. 1880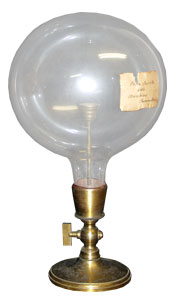 Early Vacuum Demonstration Apparatus
(Italian)
The brass cup inside the glass sphere contains a bell.
When the sphere is evacuated, the bell can no longer be heard.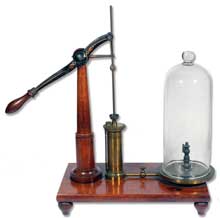 VACUUM AIR PUMP AND PHILOSOPHICAL ACCESSORIES
1860's
Single barrel air pump on mahogany base measuring 20" x 11-3/4" and 28" at highest point. Belljar measures 17" high and 6-3/4" in diameter.
See page 7, figure 4 in A Catalog of Pneumatic Instruments Manufactured and Sold by N.B. and D. Chamberlain, Boston 1844. Very Fine Condition. American, circa 1860's..
Also with air pump are included: another glass belljar measuring 12-3/4" high, * diameter; a third glass belljar measuring 15" high, 8-1/2" diameter; a fourth (also known as "Hand Glass" see Pike's Catalog Vol. I pg 201 fig. 191) or "Swelled open - top bell-glass" (see pg. 15, fig. 24 in N. B. and Chamberlain's Catalog) measuring 6" high, 5-5/8" diameter; a set of "Hemispherical Cups", (see pg. 17, fig. 33 in Chamberlain's Catalog) (also known as "Magdeburg" Hemisphere (see Pike's Catalog Vol. I pg. 203-204 fig. 197) made of brass and 3-1/8" in diameter; and a Fountain- in-Vacu (see pg. 28-29, fig 58 in Chamberlain's Catalog) or Artificial Fountain, made of glass and is 23" in height; signed on the stopcock "JAS. W. Queen, Phila".
All the above accessories are in fine condition and are American, circa 1860's.