The Development of the Electric Motor
As is so often the case with invention, the credit for development of the electric motor belongs to more than one individual. It was through a process of development and discovery beginning with Hans Oersted's discovery of electromagnetism in 1820 and involving additional work by William Sturgeon, Joseph Henry, Andre Marie Ampere, Michael Faraday, Thomas Davenport and a few others.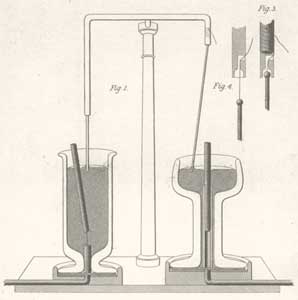 The first electric motors - Michael Faraday, 1821
From the Quarterly Journal of Science, Vol XII, 1821
Using a broad definition of "motor" as meaning any apparatus that converts electrical energy into motion, most sources cite Faraday as developing the first electric motors, in 1821. They were useful as demonstration devices, but that is about all, and most people wouldn't recognize them as anything resembling a modern electric motor. There are several Faraday motors in the collection.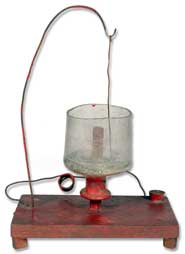 Faraday Motor from the collection
1830's
The motors were constructed of a metal wire suspended in a cup of mercury (See illustration at right). Protruding up from the bottom of the cup was a permanent magnet. In the left cup the magnet was attached to the bottom with a piece of thread and left free to move, while the metal wire was immobile. On the right side, the magnet was held immobile and the suspended wire was free to move.
When current from a Volta pile was applied to the wire, the circuit was completed via the mercury ( a good conductor of electricity) and the resulting current flowing through the wire produced a magnetic field. The electromagnetic field interacted with the existing magnetic field from the permanent magnet, causing rotation of the magnet on the left, or of the wire on the right.
Barlow's Wheels

The Barlow wheel (also known as the Faraday wheel) was first built in 1822 by the English mathematician and physicist Peter Barlow (1776-1862).
Mercury is poured into the trough located on the base of the apparatus. The wheel is lowered until a spoke just dips into the mercury. Voltage applied to the binding posts will cause rotation of the wheel.

Barlow's Spur-Wheel
Benjamin Pike
1848


Barlow's Wheel
1890


Barlow's Spur-Wheel and Faraday's Rotating Wire
Possibly Benjamin Pike
1848


Double Barlow's Wheel
Watkins and Hill
1845


Revolving Spur-Wheel
Daniel Davis
1848

Rotating Magnet Motors

Page's Rotating Motor
Charles Page
1840


Ritchie's Motor
1830's

Very primitive electromagnetic motor invented by Rev. William Ritchie; "probably the first man to produce the rotary motion of an electromagnet," in 1833 (The Development of Electrical Technology in the 19th Century, United States National Museum Bulletin 228, Washington; D.C. 1962).


Ritchie's Apparatus
English
1838
Also known as "Electromagnet rotating between a soft-iron horse-shoe."

William Sturgeon Mercury Interrupter
English
1838

Described in "Annals of Electricity, Magnetism and Chemistry" Vol. III, London 1838 pgs 31-34, Plate Il figs. 15 and 16.




De La Rive's Apparatus for Showing the Directive Properties of an Electrified Wire
Likely Watkins and Hill
1828

Also known as De La Rive's Floating Battery. Primitive electro-philosophical devices. Described on pages 71-72 and illustrated in figs 7 & 8 in A Popular Sketch of Electromagnetism or Electro-Dynamics, Francis Watkins 1828; also in Watkins and. Hill 1845 Catalog pg. 9 figs. 77 & 78. These are also described in Treatises on Electricity, Galvanism, Magnetism and Electro-Magnetism by P.M. Roget (1832) also described and illustrated in Palmer's Trade Catalog of Electro-Magnetic and Voltaic Devices, London, 1838.

William Sturgeon Mercury Interrupter
English
1830


Apparatus to Exhibit the Deflection and Rotation of an Electrified Wire about the Pole of a Fixed Horizontal Magnet
English
1840's



Revolving Magnet
Benjamin Pike Jr.
1848


Faraday's Motor With Mercury Cups
American
2nd Qtr, 19th Century

Contracting Helix
Daniel Davis
1848


When a current is applied, the electromagnetic field causes the coils to attract one another, lifting the wire from the mercury pool. This breaks the connection, the coil relaxes, the connection is re-made, and the cycle repeats. A very simple form of electric motor.



Ampere's Rotating Battery
Likely Benjamin Pike Jr.
1848


Thermo-Electric Revolving Wire Frames
Likely Daniel Davis
1842

Early Faraday Motor
Watkins and Hill
1830

Single Ampere's Rotating Battery
American
1848

Revolving Electromagnet
Daniel Davis
1848

Device Demonstrating the Rotary Action of a Magnet on a Conducting Wire when Coiled into a Helix
Watkins and Hill
1830's

Apparatus to Exhibit the Deflection and Rotation of an Electrified Wire about the
Pole of a fixed Horizontal Magnet
Watkins and Hill
1830's

Primitive Early Faraday Rotating Wire Experiment
1830's


Apparatus to Exhibit the Rotation of
Two Hollow Cylinders about the
Poles of a Magnet when an Electric Current Flows through the Cylinders
English or Italian
1840.
Simple Armature Motors

Revolving Armature Engine
1848



Upright Reciprocating Engine
Probably Daniel Davis
1842



Revolving Armature Engine
Daniel Davis
1848


Unusual Electric Motor
English
1860


Electrodynamic Revolving Ring
Probably Daniel Davis
1848

Magnetic Motor
French
1870
Other Early Motors

Magnetic Beam Engine
Pike and Son
1840




Reciprocating Engine
Probably Daniel Davis
Early 1840's



Unusual Electric Motor
English
1860


Electromagnetic Motive Engine
Likely Watkins and Hill
1845


Magnetic Motor
French
1860's


Magnetic Motor
French
1860's

DEMONSTRATION ELECTRO-MOTOR TRAIN
French, circa 1850-1860

Made of brass, steel, copper and wood, measures 5-1/2" length. Early example of an electromotive train. Has two electromagnets, a 10 pole rotor geared to the main axle. The other axle free to pivot, and designed to ride on a 2-1/2" gauge track.

DEMONSTRATION ELECTRO-MOTOR TRAIN
French, mid- 19th century


Unsigned; made of brass, copper, wood, steel and iron. An early example of an electromotive "train". It is 8" long, equipped with four electromagnets, a twelve pole rotor on the main axle, commutator wheels and contacts. The six-spoked main wheels are designed to ride on 3-3/4" gauge track; the front wheels are off center; designed for a circular track of fixed radius. Elegant and very rare demonstration piece, in fine condition.


Electromagnetic Engine
Gustav Froment
1848


Horizontal Axial Engine
Daniel Davis Jr.
1840's


Charles Page Reciprocating Electromagnetic Engine
1840's




Electro-Medical Double Helix and Reciprocating Armature Engine
Jerome Jewell
1848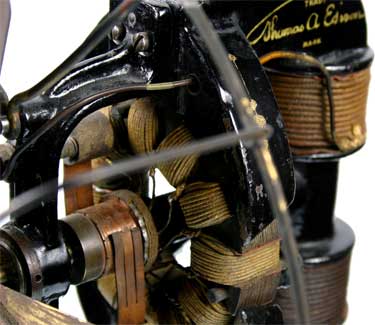 Close-up of Edison Electric Fan
Emerson Electric Fan

Edison DC Electric Fan
ca. 1898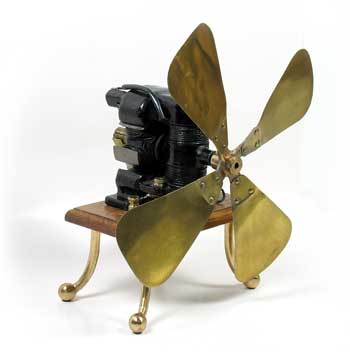 Kent Electric Co. electric fan
ca. 1898
One of the first products made and sold by Atwater Kent,
who would later become the world's largest manufacturer of radio receivers.

Geissler Tube Rotators and Similar Motors

Magnetic Motor
French
1870

Magnetic Motor
French
1870

Magnetic Motor
French
1870

This magnetic engine has a six-pole rotator with a wood and brass holder and original Geissler tube attached designed to spin with the engine creating a dazzling light display

Magnetic Motor
French
1860's

Magnetic Motor
French
1870

Magnetic Motor Rotator
Manufacture Francaise, Armes et Cycles, Saint-Etienne
1870

Magnetic Motor
French
1870

Magnetic Motor Rotator
French
1870

Magnetic Motor
French
1860's

The rotator is unusual in that the poles are shaped as small iron cylinders measuring 1-1/2" in length.

Magnetic Motor
French
1870

Magnetic Motor
French
1870

Magnetic Motor
French
1870

Magnetic Motor with Four Electromagnets
French
1850's

Four vertically positioned electromagnets angled on a 10░ slant toward each other power a 5-pole large rotator. 6-1/2" in total height. Very unusual design for an electromagnetic engine.

Magnetic Motor
French
1850's
Dynamos & Related Electromagnetic Apparatus

Waltenhofen's Electromagnetic Pendulum
by Max Kohl
(German)
1900

Waltenhofen's
Electromagnetic Pendulum

This apparatus is used to demonstrate Lenz's law, which states that the induced current in a closed conducting loop always flows in such a direction as to oppose the change that produced it. The law corresponds to the law of conservation of energy in electromagnetism.

The device consists of a pendulum, with a pendulum bob of a two dimensional shape made of a non-ferromagnetic conducting material thats is set swinging between the poles of an electromagnet. The effect of Lenz's law is seen by the rapid braking of the pendulum.


Bipolar Dynamo
c. 1900


Electric Motor
The M. Cornwell Co. Syracuse, New York, USA".
1890




Bipolar Dynamo


No. 30 'Tesla Thriller' Generator
Kendrick and Davis (K&D)
1st Qtr 20th Century


Magnetic Motor
Wooley Magnetic Engine Co.
1885

Tesla Motor
This is a model of an early three phase motor designed by Nickola Tesla.

``In our dynamo machines, it is well known, we generate alternate currents which we direct by means of a commutator, a complicated device and, it may be justly said, the source of most of the troubles experienced in the operation of the machines. Now, the currents, so directed cannot be utilized in the motor, but must - again by means of a similar unreliable device - be reconverted into their original state of alternate currents. The function of the commutator is entirely external, and in no way does it affect the internal workings of the machines. In reality, therefore, all machines are alternate current machines, the currents appearing as continuous only in the external circuit during the transfer from generator to motor. In view simply of this fact, alternate currents would commend themselves as a more direct application of electrical energy, and the employment of continuous currents would only be justified if we had dynamos which would primarily generate, and motors which would be directly actuated by, such currents.''

Adopted from T.C. Martin, "The Inventions, Researches and Writings of Nikola Tesla," New Work: Electrical Engineer, 1894, pp. 9-11 <!NULL ----------------------------------------------------------------------->