James Clerk Maxwell
(1831-1879)
"Maxwell was a genius, one of the world's greatest physicists and mathematicians ranking with Newton and Einstein."12
His contributions extend far beyond electricity and magnetism, beyond the scope of this site. Maxwell's' Treatise on Electricity and Magnetism (left) was first published in 1873. A monumental work, the book offers a detailed mathematical analysis of nearly every facet of electricity, magnetism, electromagnetic fields, and light.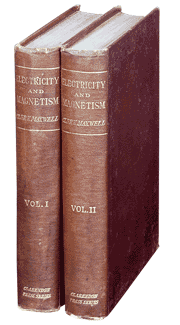 Treatise on Electricity and Magnetism
James Clerk Maxwell
1873
Intrigued by Michael Faraday's concept of "lines of force", Maxwell set out to describe Faraday's ideas mathematically. The result is described in these volumes - a set of equations that show that a changing electric field produces a magnetic field, and that the opposite is also true, a changing magnetic field produces an electric field. He also showed mathematically how changing fields in space would produce electromagnetic waves traveling at the speed of light, and even that light itself was an electromagnetic wave.
The original paper on the theory was read before the Royal Society on December 8, 1864. The theory led the way for Hertz to confirm the existence of electromagnetic waves by producing them in his laboratory, and along with the quantum theory of Planck, initiated the present ideas on how radiant energy is propagated through space.
The international unit of magnetic flux (Maxwell) was named in his honor.