James Prescott Joule
(1818 - 1889)
This is a very rare original of the famous paper where Joule established the basis for electric power and the first announcement of Joules law, one of the fundamental laws of electricity.


Joule's law, in his own words
Joule's discovery of the universality of the conversion between electrical and thermal energy, a landmark in itself, led directly to the dramatically important law of the conservation of all energy. The International unit of energy, the joule, is named in his honor.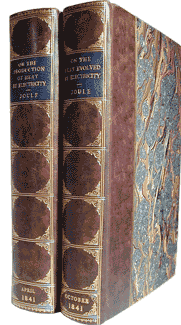 On the Heat Evolved by Metallic Conductors of Electricity, and in the Cells of a Battery during Electrolysis
Philosophical Magazine
October, 1841
James Prescott Joule