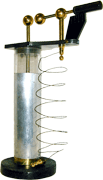 Leyden Jar with
Lane's Discharging Electrometer
1890
A Lane apparatus is a Leyden Jar fitted with a calibrated spark gap. They were used primarily in medical applications, in order to regulate the amount of voltage applied to the patient.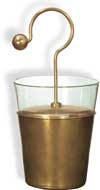 Demonstration
Leyden Jar
This jar can be separated into three parts: The outer metal can, the glass jar, and the inner metal electrode. It was used to demonstrate that the charge in a Leyden jar is held in the glass, not the metal.

Horizontal Leyden Jar
English
1830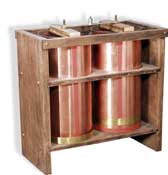 Leyden Jars from Spark Gap Transmitter
c. 1910

Ducretet Leyden Jar Battery
1865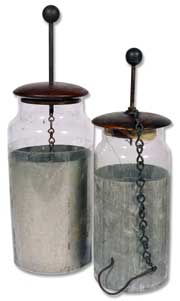 Early American Leyden Jars Likely Daniel Davis
1840's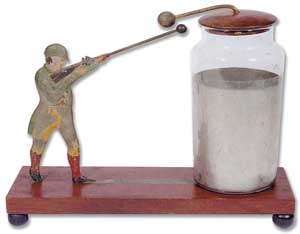 Electrical Sportsman
Joseph Wightman
1840's